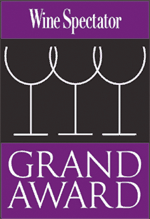 Grand Award Winning Wine List
Toronto's Opus Restaurant on Prince Arthur was awarded Wine Spectator's 2015 Grand Award, the highest distinction that the powerful US-based magazine ever bestows on a restaurant in recognition of the quality, depth and breadth of its wine program. Opus joins an honour roll of just 81 worldwide Grand Award recipients since 1981, when Wine Spectator first introduced its multi-tiered Award of Excellence program. Coveted by restaurants around the world, the Grand Award requires its finalists to be subjected to scrupulous evaluations and onsite inspections before being chosen.
In a letter to Tony and Mario Amaro, the two brothers that own Opus, Wine Spectator's Editor and Publisher, Marvin R. Shanken, wrote, "Congratulations to you and your staff for the effort and passion you have put into your wine program." He noted that the standards for the Grand Award had never been higher, and added, "Wine lovers around the world join me in assuring you that your achievement is understood and appreciated."